I'm sitting under a blanket in Charlotte, North Carolina, thinking about how cold it is (only 64!) and relishing in the comforts of being back in a home (we are staying with my best friend from college's parents). It's funny how much Golden and I have come to appreciate the wonder that is staying in a house when we're so used to our transient lifestyle – drifting from town to town, hotel to parking lot to YMCA to bar to whatever.
There's a new matrix in play as far as major studios go
With John Wick hitting the theaters, it's good to be Keanu Reeves, kicking butt on the big screen and picking up dinner checks in real life.
The sixth annual Salt Market showcased 56 local artists Saturday at SKY Armory
More than 50 artists showcased their work at the six annual Salt Market in SKY Armory on Saturday. In a warehouse with Christmas lights strung from the ceiling, the crafters and designers sold their prints, knits, and jewelry amidst fresh scones and espresso.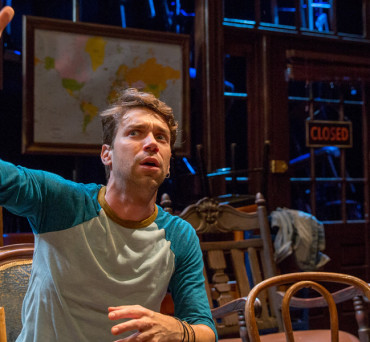 (Review) Lonely Planet at the Kitchen Theatre Company
People who use typewriters and answer the loud bells of heavy desk phones are still worth listening to. Steven Dietz's Lonely Planet, set specifically in 1991, employs light absurdist humor and extended metaphors before the audience at Ithaca's Kitchen Theatre Company figures out just where it's going.
(Review) The Ballad of the Sad Cafe at Le Moyne College's Coyne Center for the Performing Arts
Carson McCullers was the female Tennessee Williams, but with an even deeper taste for misfits. Despite her capacious gifts for theatrical dialogue, McCullers' 1951 novella The Ballad of the Sad Café was adapted for the stage by Edward Albee in 1965, crafting explosive encounters while remaining faithful to the original text. It took visionary director Matt Chiorini, of Le Moyne College's Boot and Buskin Theater Club, to know that this nearly forgotten treasure would make a great fit with a student company. The townies of Oklahoma (reset from Georgia by Chiorini) look as authentic as scenic designer Karel Blakeley's rough-hewn but imposing set, the men in scraggly redneck beards and the women in Montgomery Ward duds.
(Review) Central New York Playhouse's Evil Dead: The Musical
The Central New York Playhouse's area premiere of Evil Dead: The Musical arrives with a number of firsts. For starters, it's the first show to have its own designated "splatter zone," with seats tightly lined up together near the stage.
Syracuse Opera's Die Fledermaus
Writer Michelle Malia van Dalen reports on Syracuse Opera's 40th anniversary season,which kicks off this weekend with Die Fledermaus.
Appleseed Productions presents 'The Diary of Anne Frank'
Director Lois Haas takes three routes to refresh Appleseed Productions' version of The Diary of Anne Frank. One is small, dealing with the accents. With tutoring from voice coach Marcia Mele, all people confined in the secret upper room speak with muted German accents: "anyone" becomes "anyvun." This reminds us that we always think of Anne as Dutch; her vulnerable family had fled Germany to be in Holland. Such safety would vanish.
(pronounced "noom" for Num H.S. Amun'Tehu)
Two-time Grammy-winning artist Brother Num is known internationally for his reggae music, although he's not just limited to the dreadlocked genre. The percussionist has appeared on albums with Brian Jackson, Burning Spear, Naughty by Nature, Common and Consequence. He is also fluent in styles spanning African to rhythm'n'blues, Caribbean to blues, and hip-hop to Native American.
Reigning as the top party school comes at a cost.
A group of Syracuse University and SUNY-ESF students have created a public art installation of Solo cups to address the environmental effects of waste and party culture in Syracuse.