Local guitar guru Mark Hoffmann reveals his rockin' resume to music writer Jessica Novak
As a fixture of the Syracuse music scene for more than five decades, guitarist-vocalist Mark Hoffmann has been involved in major productions (such as the Salt City Waltz and Beatlecuse) and was inducted into the Syracuse Area Music Awards (Sammy) Hall of Fame in 2008. Yet his legacy goes far beyond the city limits.
Ithaca's Hangar Theatre puts on the controversial musical Spring Awakening
Keith Richards famously observed, "Rock is music for the neck down." Imperial Germany in 1891 was a society rapidly moving ahead scientifically and, intellectually, a nation that exalted the cranium. What lay below the neck was best not discussed, and when it was, it should be obedient and disciplined, tightened up and straightened.
Merry-Go-Round Playhouse brings a taste of Italy to Auburn with The Light in the Piazza.
Monastery by palazzo by piazza, Florence, Italy, packs in more sublime works of art than any other two square miles on earth. At Auburn's Merry-Go-Round Playhouse, scenic designer David Arsenault's gleaming marble-like set for The Light in the Piazza, dominated by a replica of Michelangelo's David, flanked by white columns, reminds us of this.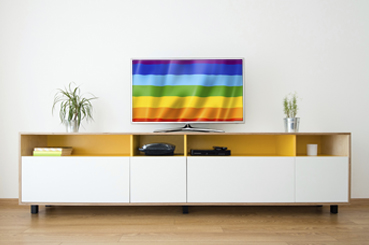 After the legalization of same-sex marriage, Sarah Hope takes a look back at the history of gay weddings on television.
With Friday's Supreme Court ruling legalizing same-sex marriage nationwide, a line was drawn in the sand.
Civil Servants will be at Rosie's Corner for the Brewerton Fireworks on July 3 at 6 p.m.
Rock and roll has always been associated with youth. It is a symbol of righteous rebellion, each generation coming to the fold of the music's power of self-expression, passion and vitality. So, it is only fitting that one of the risings acts in the CNY music scene is a collective of young guys who call themselves Civil Servants. There is an interesting twist that makes this band stand out from many others, the average age of the band members is 16 years old. Rock may be associated with the young, but seeing this band play brings to mind the phrase, "out of the mouths of babies."
Presenting various musical styles from around the globe, Fresh Music Friday finds and shares new music with our readers in an ever changing sonic landscape.
Music writer Jessica Novak goes one-on-one with Ann Wilson of Heart prior to their June 30 performance at the Mulroy Civic Center
In the 1970s, a female-led band that sang, wrote and played their own songs was anything but common. But it didn't stop the Wilson sisters, Ann and Nancy, from pursuing their dreams with their band Heart.
Cortland Repertory Theatre's production of "1776″
The musical blockbuster Les Misérables and the venerable Sherman Edwards-Peter Stone patriotic musical 1776 are not often spoken of the same voice. The current Cortland Repertory Theatre production of 1776 invites us to do just that.
Syracuse New Times intern Colin VanCourt recalls the life of "The Twilight Zone" host Rod Serling, who died 40 years ago on June 28.
Although his family moved to Binghamton when he was just 2 years old, Syracuse still proudly proclaims itself to be the birthplace of Rod Serling.
Second annual Summer Music Series for 1911 at Beak and Skiff's Apple Hill Campus
June 27 kicks off the second Summer Music Series for 1911 at Beak and Skiff's Apple Hill Campus. 1911 has become a champion of the regions "buy local" movement. This year they are sharing the love of all things local by featuring all locally-based and/or born artists as the performers for the season. It feels fitting for this multi-generational family-run farm, which has been gaining international success with its artisanal craft spirits, to actively support the artistic talents of others. It also gives a gorgeous back drop for them to share their music with the CNY community.